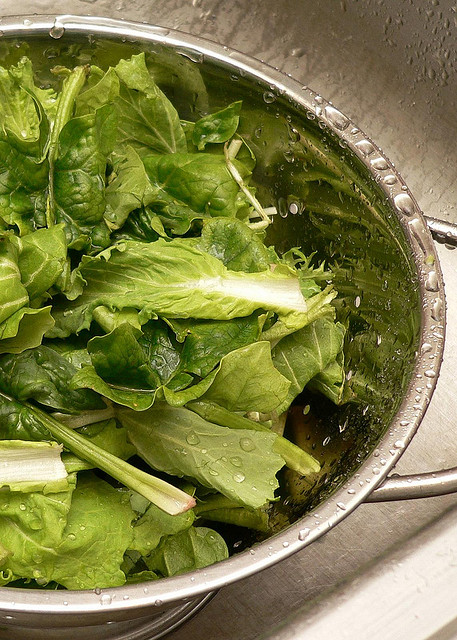 The days are getting longer. Memories of a brutal winter – for Midwesterners and Easterners, at least – have started to melt away. Less easy to shed, though, are those extra winter pounds.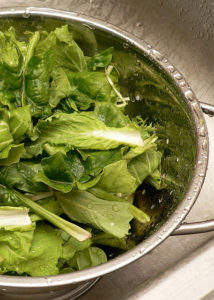 Ayurveda teaches that winter weight gain is part of a natural cycle. In the winter, we typically eat heavier, denser foods. Because of that, we accumulate what's known as ama – impurities that build up from incomplete digestion. Although there's no actual correlate for ama in modern chemistry, you can think of it as a buildup of "toxins."
The key to releasing ama – and the extra weight – is to shift our eating with the season, taking advantage of cleansing springtime foods, such as bitter greens. According to naturopathic physician Keegan Sheridan, kale, dandelion, cabbage and other bitter greens "stimulate taste buds sensitive to bitter compounds."
In response, salivation [and] gastric acid secretion increase, and pancreatic enzymes are primed to respond when food enters the small intestine, helping to maximize food breakdown and speed waste elimination.
Laden with alkaloids, bitter greens not only help to cleanse the liver; they facilitate the movement of mucus and fat out of the body, typically from around the belly, where we're more likely to store fat during the winter months.
You don't necessarily need to eat greens raw. Because the weather is still cool, warm and nourishing foods are recommended. I encourage you to try a variety of preparations – steamed, roasted, sautéed with a little olive oil and garlic, or even made into a delicious soup such as this wonderful – and easy – zucchini and watercress soup from Dr. Mark Hyman's 10 Day Detox Diet:
---
Ingredients
2 tbsp. extra virgin olive oil (reserve ¼ tsp. for serving)
1 medium onion, diced
4 stalks celery, diced
4 medium zucchini, diced
¼ c. almond butter OR ½ c. raw cashews
1 qt. reduced-sodium vegetable stock
2 c. watercress, stems removed, chopped
Salt and freshly ground black pepper, to taste
In a medium soup pot, heat the oil over medium heat. Add the onion and celery. Cook for 5 minutes, until translucent.
Add the zucchini. Sauté another 3 minutes.
Add the stock and almond butter or cashews. Bring to a boil. Then reduce heat to low and simmer for 5 minutes, until the zucchini is tender.
Add the watercress. Cook another 3 minutes, then turn off the heat.
Using a slotted spoon, transfer the vegetables to a blender with about a cup of stock. Blend until smooth.
Pour back into the pot and combine. Season with salt and pepper.
Drizzle ¼ teaspoon of olive oil on each serving. Serves 4.
---
And this is only the beginning of what spring has to offer in terms of cleansing foods. In mid- and late spring, we begin to see harvests of another family of powerhouse foods: berries and cherries. While you may be used to enjoying berries year-round – I use them almost daily in smoothies – there's nothing quite like fresh berries in season.
Consider:
One cup of strawberries contains more vitamin C than an orange.
Blueberries boast the highest antioxidant properties of all fresh fruit, yet contain just 83 calories per cup.
Blackberries, raspberries and boysenberries each have 8 grams of fiber per cup.
Cranberries, long known to support urinary tract health, also support healthy bacteria in the gut.
Cherries are one of nature's highest anti-inflammatories and have been proven to benefit heart health, boost the memory and promote healthy sleep cycles, due to melatonin.
All of these foods are ones that, ideally, you buy organic. Berries and bitter greens are perennials on the Environmental Working Group's Dirty Dozen list – but especially the berries. Insects love them as much as humans, so if you're not buying organic, you're likely getting a heavy dose of pesticides.
That said, if your budget is tight, conventionally grown produce is better than no produce at all. You'll find some helpful tips for cleaning fruit and veg – and reducing pesticide exposure – here.
Of course, no healthy regimen is complete without exercise. And if you don't belong to a gym, no worries. As soon as weather permits, put on a good pair of sneakers and start walking. The CDC recommends at least 30 minutes of walking or aerobic exercise 5 days a week. They also recommend muscle-strengthening exercise at least twice a week – and provide a helpful guide to making it happen, either at home or in the gym.
Ayurveda follows natures' cycles. Just as our metabolism slows down as winter approaches, come spring, we can stimulate it and offset winter weight gain. By embracing cleansing foods, we reap of the benefits of practices that are thousands of years old.
Greens image by Harlan Harris, via Flickr