Yoga therapy is the professional application of the principles and practices of yoga to promote health and well-being within a therapeutic relationship that includes personalized assessment, goal setting, lifestyle management, and yoga practice for individuals or small groups.
As a veteran yoga therapist and educator, I have a wide range of practices available to suit the needs of the individual client.
Most frequently, I serve women in mid-life who have any combination of concerns including: stress, anxiety, back pain, poor sleep, balance issues, heart disease, insomnia, menopausal symptoms, osteoarthritis, osteoporosis and chronic pain.

Whether your goal is to reduce stress, develop healthful habits, cultivate peace of mind, sustain work-life balance or enhance recovery from injury or illness, I can craft a program that uniquely addresses your situation, needs and values. The wisdom and guidance I provide aim to nurture fitness, inner peace and resilience.
The Process
We start with an in-depth assessment, followed by a consultation to clarify your goals. Our first focus is on what can be improved. Even when conditions can't be changed, much can be explored in terms of attitudes and perspective. Learning to embrace your present circumstances is an opportunity for self-growth.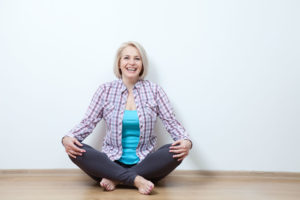 The practices are uplifting and rejuvenating, never depleting. Breathing techniques, relaxation and stress management are all addressed.
It's been a struggle to find peace with my aging body but I feel like you have given me many tools and nurtured an awareness that I didn't have before taking classes with you. Thank you for that! – AH, California
Balance through Ayurveda
Yoga's sister science is Ayurveda, an ancient system which includes not only mind and body, but also consciousness. Using the wisdom of Ayurveda enables me to collaborate with my clients and assess all that is currently beneficial in their lives – and that which is not. This includes addressing aspects of daily routine, exercise, sleep, diet and mind/body constitution.
I offer private video sessions via Zoom. Not all sessions may be appropriate by distance. If I am unable to work with you, it's my pleasure to provide a referral.
If you're currently under a physician's care, consultation with your doctor may be advised to ensure that your needs are safely addressed.
Read what yoga therapy clients say about working with me.
To learn more about working with me, start here by completing this form.