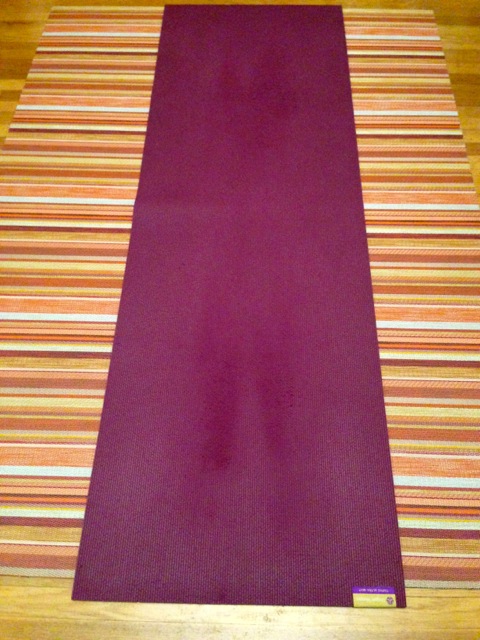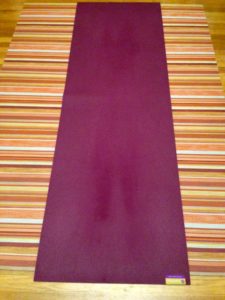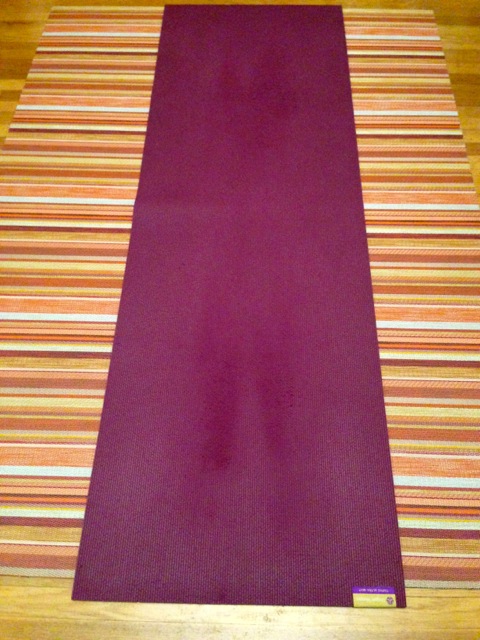 If my yoga mat could speak, it would articulate both the indescribable joy and deep sorrow I've felt through the thousands of hours we've shared.
Every morning, I bring this aging body to my practice, grateful for the ways I am still flexible and not-so-flexible. I listen to the sounds my body makes – sounds that have become old friends: the pop in my left hip when I externally rotate that femur; the click in my right hip when I extend into triangle on that side; the familiar snap from my T-spine when I twist to the right.
It's a good morning when it's all there. When I'm tight or injured or have slept funny, my body is silent. Trying to hold it all together, perhaps, it refuses to say a word.
These are the days I know to take it easy – to give up the high-energy movement I favor for a restorative practice, just for that day.
Having just the right mat surface is essential. It's also highly personal. I require just enough stick – but stick it must! – with not too much give, ensuring the safety of my wrists in my beloved inversions. The rubber must be smooth. Not too rough on my hands or feet. Odorless.
In the 20-some years I've been practicing, I've cycled through maybe three or four mats, and it's been a bitter discovery that they're like lipstick: No matter the manufacturer, once you find one you like, the next time you need it, it's been re-formulated or discontinued.
The sweetest moments on my mat are those in yoga nidra or "yogic sleep," also known by the less popular name "corpse pose." In this supine position, one transcends deeply through the koshas or layers of being: body, breath, mind, wisdom, and bliss. During a 20-minute practice – or longer – I am taken to a place that is deeply restorative. I often shed tears – spontaneously, seemingly unrelated to anything specific.
I arise from practice renewed, lighter, and feeling younger. I see this same lightness of being in the students and clients I've worked with these past 15 years.
When a mat has begun to reach the twilight of its life – as my current mat has – after practice, I lovingly pick up the tiny flecks of rubber from the gouged out places where my calloused heels have made divots. I roll those little pieces between my fingers, pieces that have separated from the source, and I discard them, pretending perhaps, that the mat isn't as old as it seems, that it has many more moons to go.
My mat is so much more than a sheet of rubber. It's a throne, a magic carpet, a sacred place. It's where everything takes place.