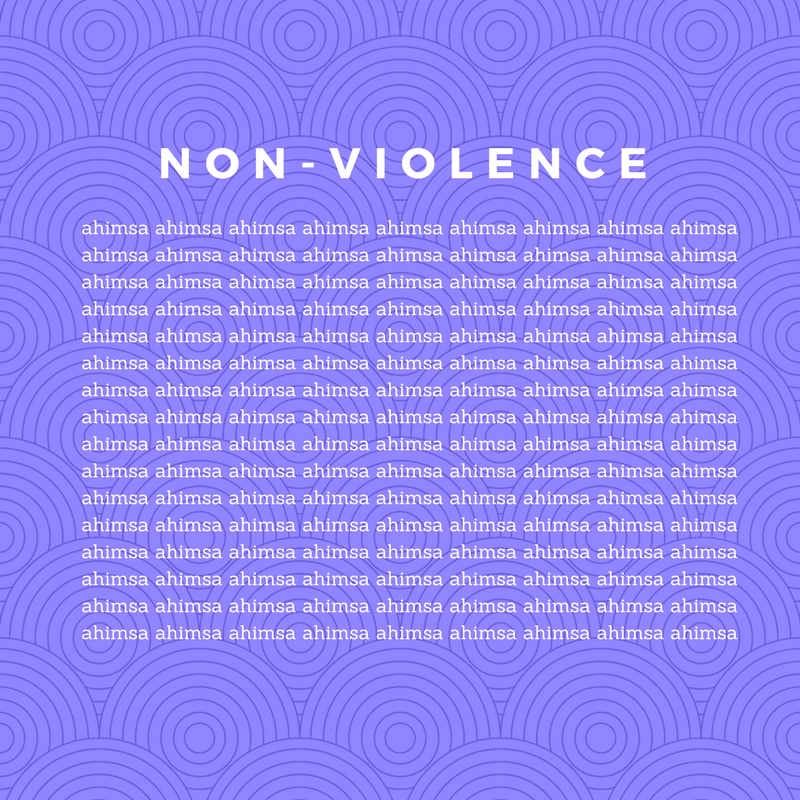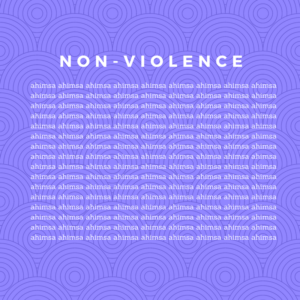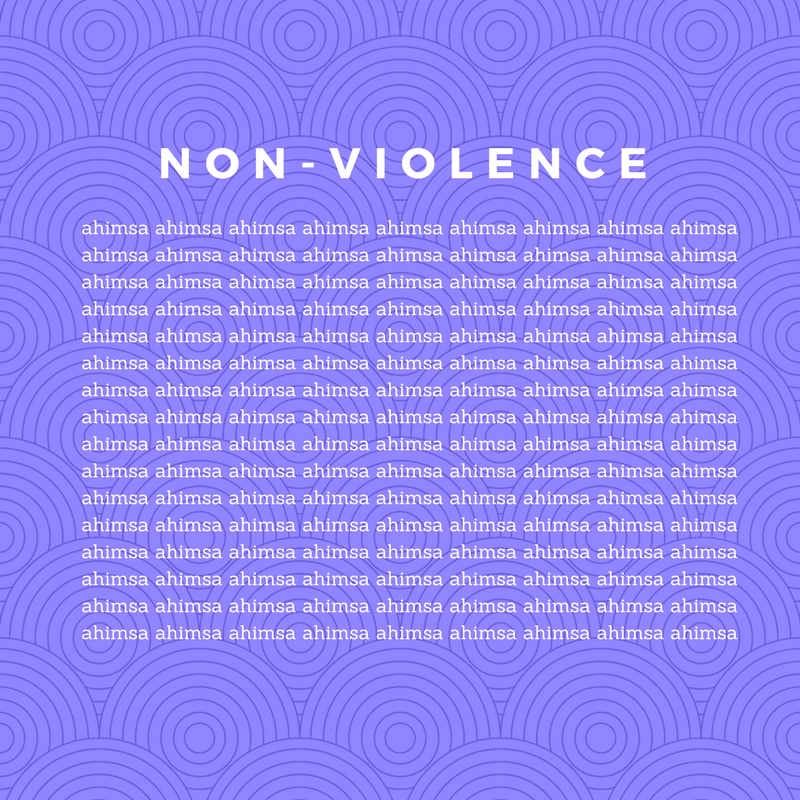 Happy New Year! If you're like me, you might be using these days for self-reflection, identifying some things you'd like to add or subtract in your daily search for meaning.
Yoga is a rich resource for such reflection, with eons of experience and advice for us. This year, because of their great value in supporting equanimity and balance, I'm focusing on the Eight Limbs of Yoga, as presented in The Yoga Sutras of Patangali (circa 200 AD).
These limbs offer practitioners a well-defined method of union between body, mind, and spirit. Each limb explores a different area of living, such as ethics, spiritual observances, physical postures, breath, meditation, and more.
The first limb, the Yamas, is comprised of five observances for living an ethical life in society. They are non-violence, truthfulness, non-stealing, moderation, and non-coveting.
I'm beginning with the first yama, non-violence, because I can't remember a year in my lifetime when I felt more aware of unrest and discord in this country I love.
Non-violence: the root of all suffering?
In Sanskrit, non-violence is referred to as ahimsa. Ahimsa is considered by many to be the most important observance. In fact, the sutras teach that violence in any form is the root cause of suffering.
The three different areas of non-violence include:
• Physical actions
• Spoken or written words
• Thoughts
Physical actions
Ahimsa teaches respect and non-violence towards all living creatures. For this and other ethical reasons, many yogis choose to follow a vegetarian diet.
In addition to eschewing physical violence towards others, one must consider self-violence, which can be subtle in nature. Ignoring an injury (or any health condition) until it becomes chronic and potentially serious is a form of violence against self. Lack of self-care is also a subtle form of self-violence. The body is a magnificent machine, and like any vehicle, if not properly cared for, it will break down.
Some ignore self-care while caring for others. This is also a form of violence against self, because ultimately, if we do not care for ourselves, those whom we aid will no longer have the benefit of our support.
Asana practice (the physical practice of yoga) provides valuable insight into one's relationship with non-violence. In fact, it may be the primary place where one recognizes a personal tendency towards self-violence, by pushing beyond safe boundaries. The way one approaches each pose can often reveal a lot about how one approaches life. Even when learning new or challenging asana, ahmisa should always be the guiding principle.
Often injuries occur when we are ensnared by our ego. I remember Meddy, an early yoga educator of mine whom I greatly admired. While teaching headstand, she warned us against show-off yoga. She told us of a student who had seriously injured himself at a party by doing a headstand before he had mastered it. I've never forgotten that, and resist my own tendency towards show off yoga, even though I love a challenge!
Spoken or written words
It goes without saying that in the age of texting, tweeting, and non-stop news, it's easy to slide into quick judgment and violent commentary. However justified one may feel, contributing to violence via language – spoken or written – is not useful. Any language whose sole purpose is to harm another is violent.
One of my childhood teachers said, "If you don't have anything nice to say, don't say anything at all." It was true then and it's true now, but it's easier said that done.
What you choose to watch and read can have a big effect on one's thoughts. It is well known that watching news before bedtime can effect your quality of sleep. Even more concerning, being in the presence of disturbing news, even if it isn't your primary focus, can have a negative effect.
In fact, I have placed a moratorium on news after dinner, and likewise avoid Facebook or any other platform where I might be exposed to or drawn into controversy. It can wait. My sleep is more precious to me.
Thoughts
Thoughts are the hardest of all to root out, because they are incessant. To be human is to possess what the ancients called "a monkey mind." Its job is to run willy-nilly. It can be humbling and even stunning to note how easy it is to go down the rabbit hole. What makes a thought violent? Consider whether you feel agitated, or angry. Is your peace being disturbed?
Even Gandhi struggled with this. When asked about his efforts at practicing ahimsa, he confessed, "I am still trying. I am still not that perfect." This from the leader of the non-violent resistance movement!
One of the most expedient ways to work with violent thoughts is by using meditation as a tool to recognize and root them out. There are many different types of meditation that address specific concerns and suit different personalities. They include: Loving-kindness, Mindfulness, Concentration, and HeartMath practices, to name just a few. While we may never eliminate the presence of violence in our lives, meditation helps us recognize it in others and ourselves.
Ahimsa: not just for yourself
Through a steady and sincere practice of non-violence, we may notice our efforts diminishing hostility not only in ourselves, but also in those around us.
Practicing ahimsa does not mean releasing ourselves of accountability. In The Essence of Yoga: Reflections on the Yoga Sutras of Patangali, Bernard Bouanchaud asserts that nonviolence does not mean cowardice, surrender, or avoiding responsibility. In fact, in times of violence and discord, the practice of ahimsa may strengthen our efforts in service of a higher good.
In this New Year, I will attempt to practice ahimsa a little more deeply, towards myself and others. I'm hoping to add a little more peace to a world that needs it. In what part of your life might you introduce the practice of ahimsa?
Share your thoughts and aspirations as a comment below, and let's encourage each other as a community!