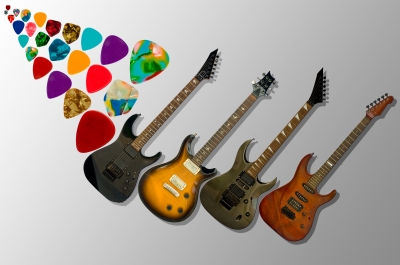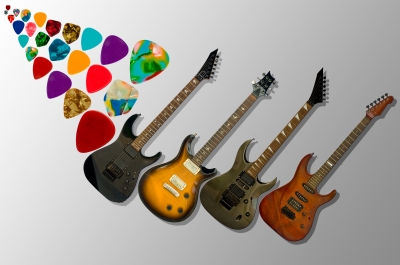 When I realized National Stress Awareness month coincided with International Guitar Month, I had to laugh.
It just so happens that my husband is a collector of guitars…many guitars.
Before we married, I remember making the acquaintance of the 3 or 4 beautiful instruments he owned – acoustic and electric. They were pristine, resonant and valuable. My husband has good taste – and a good ear.
In the years since, the guitars have multiplied like rabbits. It's astonishing. They're everywhere: under the bed, behind the sofa, in storage, in guitar stands and on a tasteful, tilted metal rack in the living room.
I must confess: this stresses me out.
I think there may be 20, but I'm pretty sure I'm wrong. My husband's the only one who knows. Does he have a database for these lovely and cherished items? (I would.) And of course, there are stomp boxes, speakers, and wires…oh my.
Let me add – with heart – I feel like the luckiest woman alive. I waited a long time to marry and I found my match.
Did I mention his sense of humor? My husband's favorite guitar joke:
"My worse nightmare is when I die, my wife will sell my guitars for what I told her I paid for them."
Seriously though, one of the deep bonds we share is our love for music.
For the past 6 years, we've maintained a holiday tradition of recording a tune every December (I sing, he plays). Additionally, in his spare time, he plays guitar in community productions. He's a talented musician and I love listening to him play.
We both agree that a marriage with a partner who doesn't share a love and appreciation for music would be unthinkable.
But here's the rub: I'm not a collector. I like space.
I don't want more things, I want less.
I like a home that feels ordered, neat, uncluttered.
There's hardly anyone who shares space who can't relate to this dilemma.
And when I feel myself getting hot under the collar and focusing on our differences rather than on the good things, here are 3 powerful questions I ask myself:
Am I willing to see things from the other person's POV?
Can I recognize in myself resistance to change or growth?
Do I have a fixed idea of how things "should be"?
Some of the benefits I've found in considering these questions include more flexibility in how I think our home should look (what a relief!) and a sense of composure in the multitude of situations in which I have little or no control (like life!).
Meeting in the middle requires respect and collaboration.
Consider these questions before engaging in meaningful communication:
Is this a power struggle disguised as an argument?
Am I willing to consider points of negotiation before I speak?
In a successful negotiation, the goal is never to win, but to find middle ground: both parties feel that their needs are being acknowledged and that they're receiving a degree of satisfaction.
Ultimately it's never the event, person – or guitar(s) – that create stress, but rather, our response.
So, during Stress Awareness month, I challenge you to look at the situations in your life – or relationships – that you identify as stressors and consider these questions.
Dissipating stress can truly be as instant as flipping a switch, but it takes practice. Awareness is an essential part of managing stress.
And if you're in the market for a guitar, I know where you can find one.
If you have a couple minutes, here's a fun quiz to learn a little about what your favorite music says about you.
Image: Guitars by hinnamsaisuy