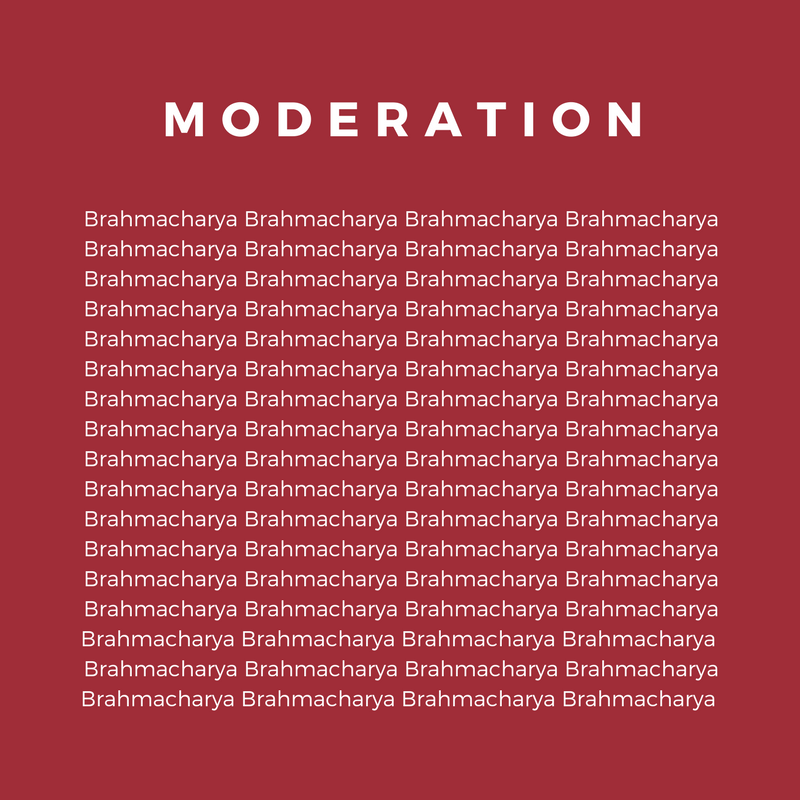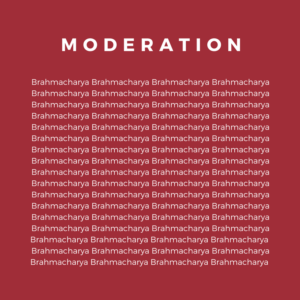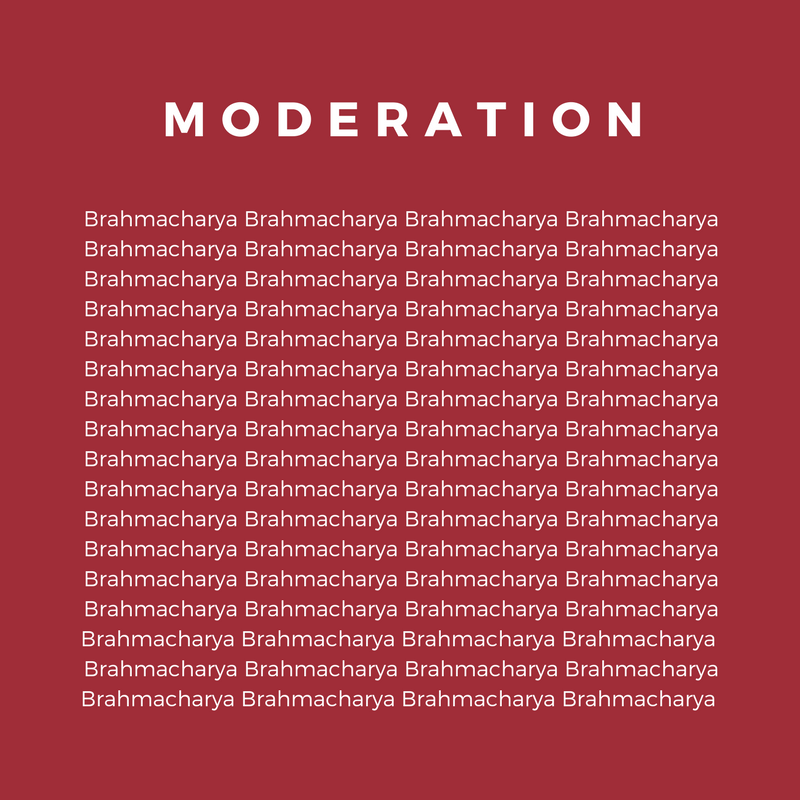 Thus far in examining the Yamas (ethical principles for living from the yoga sutras), we've discussed non-violence, truthfulness, and non-stealing.
Brahmacharya, the fourth of the five yamas, is often translated from the Sanskrit as conservation or celibacy. It is also understood as moderation. For the purpose of this blog, we'll focus on moderation.
Before we dive in, it's important to understand the context of conservation or celibacy circa 400 A.D., when the sutras were composed. Bramacharya was a specific directive for boys in the student stage of life.
The Vedas, the oldest extant Sanskrit literature, outlines four stages of life: student, householder, hermit, and monk. The stage of the student lasts approximately from age 5 to 25. The householder goes from there to age 50, the hermit until age 75, and the monk from 75 to death.
Celibacy was of particular import during the student stage of a boy's life, because it was believed that during that time, it was essential for the male energy to be directed towards study alone. The Vedas teach that vigor and potency in the physical and spiritual realm are increased by the practice of celibacy during those years.
As one might imagine, in modern times this practice might be considered irrelevant, sexist, or outdated. But that is like throwing out the baby with the bathwater.
Time for Moderation
In fact, the alternate understanding of brahmacharya—the concept of moderation —has great value and import in modern times for both genders, particularly when it comes to sensory indulgence. By sensory indulgence, we mean anything that we see, taste, feel or hear which has the possibility of becoming addictive.
Beyond sensory indulgence, moderation may also include aspects of lifestyle, including personal habits, activities, thoughts, and diet, to name just a few.
One of the primary benefits of moderation is that it helps fortify against depletion.
We each have a finite amount of energy. Like a car with a full tank, if you keep the pedal to the medal, however enjoyable the diversion may be – pretty soon you will run out of gas. So it naturally makes sense that much of the harm we potentially face from overindulgence can be mitigated by modification. In this way, we don't exhaust resources. Brahmacharya is not necessarily a directive to refrain from activities we enjoy, but rather to understand the role of moderation and how it can help us to pull back when we've crossed the line into indulgence.
Strategies will be different for each of us, as we each have different constitutions. Understanding what we need can guide our discernment.
Moderation in Action: Charting a New Course
Sleep is obviously essential for recovery, recharging, and healing. Let's take a look as one of my clients (let's call her Amy), who was having a serious challenge in this area, and see how moderating her behavior brought greater stability to all aspects of her life.
Work was the primary focus of Amy's life. She worked long hours and regularly arrived home late. This was unavoidable due to career demands and a long commute. Even though it was demanding, Amy loved her job and wouldn't consider leaving it.
Amy regularly arrived home hungry. She ate at 8:30 or 9:00 p.m. and then went to bed a short time later on a full stomach. Not only was her capacity for sleep diminished, but she awoke tired and then relied on six to eight cups of coffee to get her through the day. It was a cycle leading to depletion, lowered immune function, and adrenal fatigue. She was getting burnt out.
How might moderation help?
Amy agreed that on three work nights she would commit to eating at the office. She took a short break there so she could finish her evening meal by 7:00 p.m., at least four hours before sleep. For this experiment, she brought food she'd prepared at home, or ordered in from a local restaurant.
While it took a small amount of time away from work to have a dinner break, it meant that when she got home, she was able to relax and unwind instead of wolfing down food.
And since she didn't have to cook, she found time to cultivate bedtime rituals that appealed to her, such as taking a warm bath or reading a book.
As a result, her sleep improved and she woke with more energy. Her performance at work became sharper. She felt more creative and realized that nurturing moderation around work not only supported better sleep, but she also felt less reliant on caffeine to jumpstart her day and keep her going.
This is one example of how moderation can help to cultivate equanimity. It's a holistic approach that supported her mind and body as well as the livelihood she valued.
I love this quote from Supreme Court Justice Sonia Sotomayor, who turned a childhood diagnosis of diabetes into a powerful teacher of moderation.
"My diabetes is such a central part of my life… it did teach me discipline… it also taught me about moderation… I've trained myself to be super-vigilant… because I feel better when I am in control."
–Sonia Sotomayor
Workaholism abounds for many; others experience lethargy. Some are consumed by technology to the point of addiction; others exercise maniacally until they are injured, and then repeat the cycle. Others abuse food, sex, or drugs. We all have places in our lives where we tend to be out of balance.
Moderation may not be a hallmark of modern times, but it has much to offer us. We need not necessarily eschew that which we enjoy. Brahmacharya encourages us to become aware of areas we might want to moderate, and see how it can help us achieve greater integration and satisfaction.
Are there areas in your life you'd like to moderate? Do you think Brahmacharya has gifts to give you? Share your thoughts and experience with us in the comments.