Everyone has times of sadness.
I've been extra aware of this lately, seeing several dear friends struggling with challenging, even heartbreaking circumstances – health crises, rocky relationships, financial concerns. I keep reminding myself that as much as we wish to do something, ANYthing to help, sometimes the best thing we can do is simply witness, be steady and available.
Not that it makes things any easier.
One recent morning when I woke with a heavy sorrow, I did what I often do when I need clarity: I took myself to the ocean. Being in nature, particularly near water, is a powerful antidote for whatever is ailing me.  I find that the vastness of nature puts life in perspective. It's no panacea, but it helps. A lot.
This particular morning, I went to the Mori Trail – a favorite walk of mine, offering a magnificent view of the Pacific Ocean. Within moments, I encountered an elderly, heavily tattooed man walking briskly, pulled forward by an enthusiastic Chihuahua. Lurching by me, he roared – and I mean ROARED – "Healthy!"
Was he saying that he felt healthy? That I looked healthy? That both of us were grooving to the health thing? I had no idea. And I almost turned around to ask. But I kept going, feeling a little weirded out – like Alice venturing forth in Wonderland.
Not two minutes later, a 30-ish guy with a long, black beard saluted me, military style, as we neared each other on the rustic path. Then he stopped, bowed formally at the waist and said, "Happy New Year!" – despite this New Year being several weeks old already. I had to smile, then took a quick glance over my shoulder. Maybe he'd mistaken me for another gal? Nope. Intended for me. Okay. I'll take it! Happy New Year! And what an odd morning!
Just as I noticed how all this strange kindness had helped me start to feel better, a third person approached, waving me down, imploring me to stop. She was panting and looked close to tears.
"I lost my car keys. Can I use your phone? My phone's in my car. My keys are gone. I don't know what I'm going to do!"
The hills in which she'd been running extend for miles. The brush along the overgrown trails is wild. Locating a key would be like finding the proverbial needle in the haystack. Of course I held forth my phone to her.
She rang her father, and when he didn't answer, she left a message, thanked me and went on her way, presumably to wait for him in the parking lot. I continued walking. Wouldn't it be nice if I found her keys? I thought. Then, Wouldn't it be nice if I'd thought to ask her what they looked like so I'd know them when I found them?
And with that, everything seemed typical again. I passed people on the path; they passed me; no one seemed to acknowledge anyone.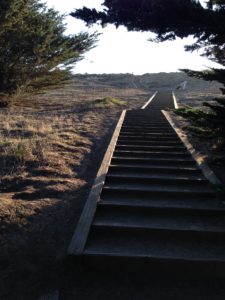 Eventually, I reached a long elevation of stairs built into the mountain that rise to a plateau with a splendid view of Pacifica. But while I usually bound up them – 185 in all – this time, I had to slow about halfway up the narrow flight to make way for three men who were descending. As we passed, the guy in the middle looked me in the eye and raised his hand to display a key on a red plastic chain.
"Did you drop this?"
He must have thought I was heading back to look for it; otherwise, his question made no sense. I was going towards where he was coming from. The weird logic just didn't register in the moment. "No," I replied, "but I know whose it is and will return it to her."
They continued on, and so did I, enjoying the serendipitous moment. I felt my heavy heart begin to lift with a rush of joy and gratitude.
Heading back to the parking lot and the jogger, I realized that I had her father's number on my cell. How perfect! I'll call and tell them that the key is safe.
He answered straightway and was in fact just arriving to help his daughter – who I could hear laughing and clapping in the background as he expressed amazement over the find. He said she was on her way to meet me. She approached holding her hands over her heart.
"I guess we were meant to meet today," I said, handing over her key.
I realized that what had ultimately lifted my heart that day was the opportunity to be of service. Truly, I believe that's why we are here. There's no greater feeling or healing. It's a beautiful practice when intentional, as in doing volunteer or karma work, but it's also delightful when the unexpected happens and you have an opportunity to play your part in an unfolding drama.
It makes you recognize the possibility of grace in each moment.
Suggested Practice
A yoga sutra highlighted in a previous post is particularly apt here: Pratipaksa Bhavana – the art of cultivating the opposite.
When negative thoughts, feelings or behaviors arise, don't push them away or ignore them. Use them as an opportunity to cultivate positive ones. This creates an opportunity for stability, focus and endurance – qualities that add to our long-term resilience. In the example above, while I truly felt down, I made the effort to take myself to an environment I knew would lift my spirits and shift my perspective.
Try it the next time you face such a challenge and let us know how it supports you. We love hearing from you!