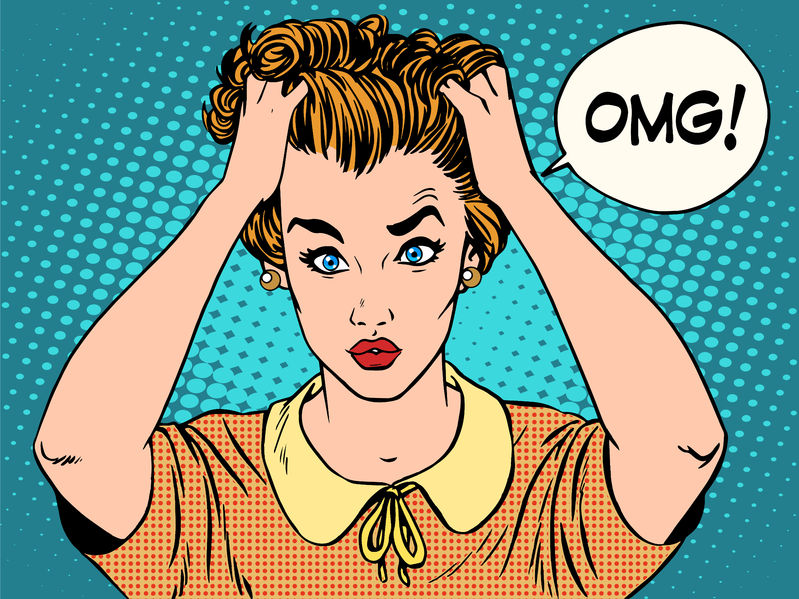 I remember standing in the shower looking up at the ceiling. It was hard to tell how much it was sagging, or even if it was sagging. Truth is, the bathroom ceiling had always been a bit cockeyed, having been patched numerous times over the years due to leaks from the upstairs apartment.
This very day my neighbor upstairs had failed to report an overflowing toilet until I discovered water dripping down the radiator pipe in my bathroom. For some inexplicable reason, he never called for help, and by the time I discovered it, water had reached the first floor, three floors below the leak.
And now, showering, I noticed a change in the ceiling. Something I hadn't seen before. It looked like a red drop along the line where the sag was most prominent.
Interesting, I thought. It's like one of those opening credits in a James Bond film: a single drop of blood appears, and then, as in a cartoon, the one drop expands into two drops, and then four, and so on. Although I was in the shower, and obviously vulnerable, I felt curious and not worried. The ceiling appeared to be structurally intact.
It then occurred to me that the blood-red color I was seeing came from the previous incarnation. The bathroom used to be a deep burgundy, much darker than the current pale lavender. It was a striking contrast to see the burgundy dots slowly multiplying along the fault line.
I went to bed with the ceiling on my mind. Around 1:50 a.m. I heard a small creaking sound from the bathroom. I went there and turned on the light… and was shocked to see the "blood" line extending the full length of the ceiling.
Not good, I thought.
I noticed the glass globe covering the 60-watt light bulb over the sink. I didn't want it to shatter if the ceiling came down. I quickly turned the side screws and removed it. Then I saw the light bulb, and thought I should probably save that too. After all, a shattered light bulb is such a mess to clean up. I tried to unscrew it, but it was hot to the touch. I took a break and rotated the bulb another 20 degrees. I heard another faint sound… and then I felt a powerful and unmistakable message.
GET OUT! NOW!!!
At that moment, as if pulled backwards by an invisible force, I swiftly exited the bathroom — and the ceiling collapsed in front of my eyes. The entire apartment shook. Huge chunks of inches-thick drywall lay on the floor in front of me. The wooden beams were exposed. The air was thick with dust. I ran downstairs and alerted the super, who arrived upstairs in minutes. He said he'd felt the building shake, two floors down.
We closed the bathroom door. He told me to stay out (I didn't need convincing) and said that he would arrange for cleanup in the morning.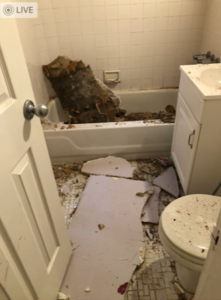 It just so happened that that very day I was booked to present a HeartMath Resilience Advantage workshop. The topic? Stress reduction and cultivating intuition.
"Is this a cosmic joke or what?" I thought. "I guess I get to walk my talk."
After the collapse, I wasn't exactly primed for sleep, even though I generally sleep well. In all my years of presenting, I can't remember being so deprived of sleep before an event, even when crazy-excited about a gig. I also wondered how much cortisol, the so-called stress hormone, might be coursing through my blood. "Plenty," I thought. "No sleep for me."
Running on fumes, I presented my three-hour workshop. It was well received. I was glad to summon the energy from god-knows-where.
I truly believe it was an intuitive response that saved me. Perhaps it was something HeartMath calls energetic intuition. It's when the nervous system is so highly tuned to signals from other people, things, and even the earth itself, that it produces enhanced awareness.
It's well known that some people — and animals — can sense an earthquake before it happens. What they are sensing is the earth's magnetic field, which can change as early as two weeks before an earthquake, but especially about an hour before a big event. I remembered having just such an intuitive hit in New York City before a predawn earthquake in 1985. I woke about 10 seconds before it occurred.
I don't believe I've grokked how close I came to being injured, or worse. My super later said that the fallen ceiling could have killed a horse. I have a big appetite, but I don't think he was referring to me.
In thinking about what I learned from this experience, I would say two things stand out. I'm happy to know that even though this was a highly stressful event, I was able to maintain a sense of humor and equanimity. Second, and perhaps more importantly, I realized the folly of trying to save a light bulb.
I hope you learn from my experience, too. Cultivate and trust your intuition. I believe it's continuously working for us in ways that may seem mysterious or even woo-woo, but the messages we receive can provide guidance and insight. And on rare occasions, they may even save a life.
One more thing: sacrifice the bulb – save the bigger light: your life.