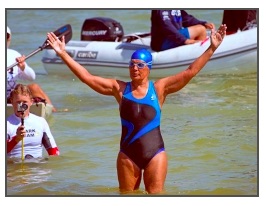 For 35 years, Diana Nyad had dreamed of swimming from Cuba to Florida. As she made her fifth attempt last week, we got to see her turn that dream into reality. She completed the 110 mile swim in 53 hours and became the first person ever to do so without a cage.
"You're never too old to live your dreams," she said.
Nyad is 64.
And while most of us won't achieve – or even aspire to – her kind of physical triumph, we can learn so much from this extraordinary woman. She is a living example that we aren't old at 40, 50, 60 or beyond.
In fact, we have surprising control over how we age. The CDC says that 75% of healthy aging is in our control and that most chronic disease is reversible through behavior and healthy habits.
So how do we make the best use of our time when committing to physical, mental and emotional health?
Science has some surprising statistics that may cause even the most diligent exercise buff to do a double take. Consider, for example, a University of South Carolina study led by epidemiologist Steven Blair:
He found that men who reported more than 23 hours a week of sedentary activity had a 64 percent greater risk of dying from heart disease than those who reported less than 11 hours a week of sedentary activity. And many of these men routinely exercised. Blair says scientists are just beginning to learn about the risks of a mostly sedentary day. [emphasis added]
Increasingly, we're learning that we need to move frequently throughout the day, every day, to stay healthy. The extended periods we spend seated at work have long-term consequences, even if we regularly work out.
Bound by Genomes
Though we tend to see ourselves as "evolved," we are still bound by genomes that emerged in the Stone Age. Movement was obligatory then. It's how our ancient ancestors survived. If they didn't move daily and frequently, they were eaten or they starved.
Thus, one of the simplest things we can do to change and even override the decay code sent by sedentary behavior is move more. And often. So get up from your desk. Shake it out. Walk to the printer. Take the stairs. Your genomes will thank you.
This kind of movement is not a replacement for aerobic, flexibility and weight training – it's a complement. "Regular exercise" matters just as much – and has significant and powerful effects on both your physiology and mental health.
Yes, really.
The benefits of exercise also include increased stress resilience, reduced anger build-up and lowered levels of anxiety and depression. "It's pretty amazing, really, that you can get this translation from the realm of purely physical stresses to the realm of psychological stressors," says Dartmouth's Dr. Michael Hopkins in Gretchen Reynolds' The First 20 Minutes.
Exercise benefits your brain as well, improving connections between brain cells and stimulating the growth of new cells. It also improves blood flow to the brain. You can read more about this research on Dr. Michael Joyner's excellent Human Limits blog.
"If you're active," he assures us, "aging will not be a slow march to frailty."
Adds Reynolds, "It will be a conga dance to a far-off finish line."
Or if you're Diana Nyad, a record-breaking swim across the Florida Strait.
For more fun tips for incorporating movement into your workday, click here.
Nyad image via Greek Reporter USA